The theme for the 23rd International Conference for Women in Business is "LIVE STRONG".
Experience diversity in action at one of Japan's largest conferences;
the main conference in the morning last for four hours and is followed by roundtable discussions of various themes in the afternoon.
By the end of the networking party in the evening, the participants have spent 10 valuable hours at the Conference.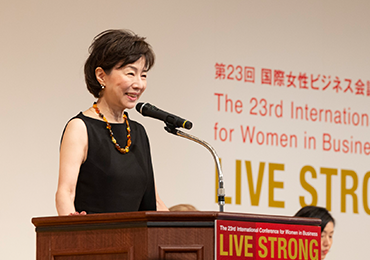 The eagerly awaited day had finally come. Many participants queued for almost two hours before the doors opened in hopes of getting front-row seats. They seized the first chance of the day to make new friends while they waited. The doors opened 15 minutes earlier than the scheduled 9 a.m. and reception proceeded smoothly with the face authentication system implemented for the first time this year.
As the venue filled, the participants exchanged business cards and introduced themselves and some posted photos on their social media accounts. Amidst those in suits and dresses, there were also junior high and high school students in school uniforms and people wearing kimonos, hijabs, and native costumes. A large group of reporters waited near the back of the venue for the kickoff. After the 800 participants?from age 14 to 80s, 90% female, 10% male?were seated, the 23rd International Conference for Women in Business opened at 10 a.m.

会議のレポートは以下からお読みください。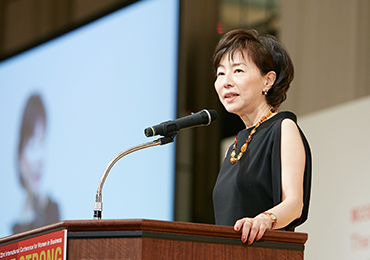 Kaori Sasaki
Founder & CEO, ewoman, Inc.
Founder & CEO, UNICUL International, Inc.
Founder & Chair, International Conference for Women in Business
フロアを埋め尽くした女性達、男性達が、今か今かと待つ中、この会議の実行委員長をつとめる佐々木かをりが壇上へ。第23回国際女性ビジネス会議の開幕を告げるオープニングスピーチのはじまりです…
主催