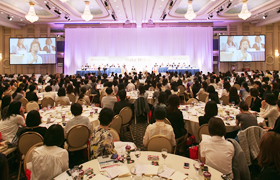 1. Morning session
2. Hotel's special course lunch (seated)
3. Two afternoon interactive discussions (please select one discussion per session)
4. Buffet-style dinner in the evening (drinks and food) and networking event
5. Program and all handouts to be distributed on the day
6. Simultaneous interpretation of main speeches (Japanese-English)
An email confirming registration content will be sent once the registration form has been received.
Please read this email carefully as it contains information on how and when registration payment should be made.
Registration is complete once payment of fees has been confirmed.
Registrations will be accepted in the order they are received.
To residents of Japan, we will send your Participation Pass in a postcard with the registration number, after Monday, May 9.
To those coming from overseas, we will contact you by email and not send you a postcard.
*For those who pay on July 13 or after, we will not send one. Please fax/email us your payment receipt and also bring the receipt to the Conference to enter.
Once paid, registration cannot be refunded for any reason. The program and speakers may be subject to change for reasons beyond our control. Please note that, regardless of such changes, registration fees cannot be refunded.
Please note that the seated course lunch may not be available to those who register after July 13 (Wednesday). In this case, attendees will be served from a separate lunch menu at designated tables.
Registration will close once the maximum number of participants has been reached.