「Women, be ambitious」

Ambassador Extraordinary and Plenipotentiary
Embassy of the republic of Macedonia in JAPAN

Head of OECD Tokyo Centre

Controller and Senior Executive Officer of Coca-Cola East Japan

President and CEO of Plan Canada

Some say that women don't have the vision that men have. This roundtable discussed topics from finding mentors and choosing life partners, to overcoming failure, and finding your passion.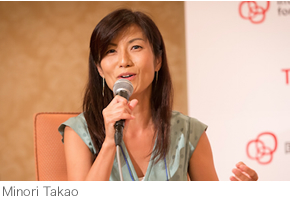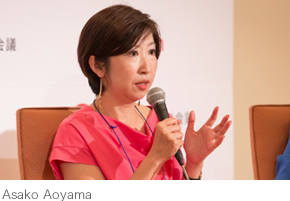 Minori Takao, an anchor at NHK, facilitated this lively session. After each panelist introduced herself briefly, the discussion got underway. The panelists were asked what advice they could give to women who wanted more from their career, women who were ambitious. All of the panelists agreed on the importance of a finding a mentor to guide them. Asako Aoyama, Coca-Cola East Japan, offered valuable advice to the participants on finding the right mentor. Yumiko Murakami, OECD Tokyo, brought up the value of finding other women to talk to, even outside their company, and shared with the participants the key thing that they needed to understand if they were going to be successful. Rosemary McCarney, Plan Canada, spoke about the value of crossing borders and the competitive advantages of living in another country.
She encouraged everyone to live and work abroad for some time, if they could create the opportunity, as it would open new doors and enhance their career tremendously.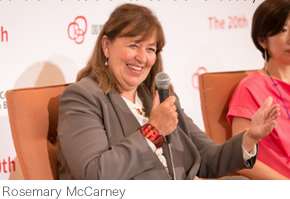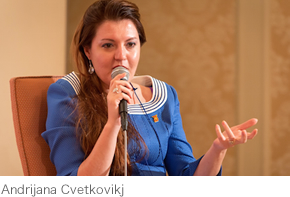 Andrijana Cvetkovikj, the ambassador of Macedonia, also offered advice on how to find mentors and what to look for in a mentor. "Find your passion and do it; there is no one right path", she said. She also explained what she thinks is the best path for young people to take when just starting out in their careers.
Ms. Murakami shared some rather surprising OECD stats on the math scores of boys and girls at age 15 in various situations, which emphasized the importance of self-confidence in girls and the implications of the research in the workplace.
A participant asked how to get Japanese women to act on their ambitions, to not wait for others to ask them. In response, Ms. McCarney shared the results of a survey of 7200 young people from all around the world that showed the difference of girls' participation when boys were present. She commented that, unfortunately, these results are still evident later in women's careers. She emphasized the importance of helping young women get past those early experiences so that they can move on and realize that they have a valuable voice and can make a significant contribution. On another note, Ms. Aoyama explained to the participants why they need to be willing to take risks in their careers and repercussions of not being willing to take them.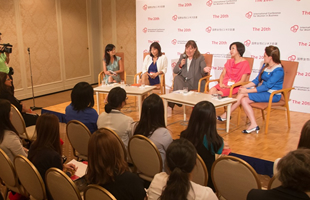 When a participant asked the panelists what was the best way to get past a failure, all of the panelists offered encouraging advice on how to move forward and what steps to take next. As Ms. McCarney had mentioned the importance of finding a good life partner, a participant asked her what she thought make a good one. She counseled her on the qualities that she should look for. Ms. Murakami gave some valuable advice on what you can control and what you can't control in terms of finding a life partner and how to deal with all of it. Ambassador Cvetkovikj also shared the qualities that she thinks are important in a life partner.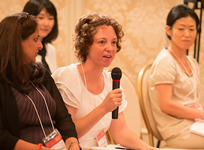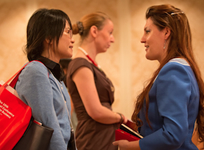 tarshu さん
Confidence
「Confidence」OECD東京センター所長の村上さんが何度も繰り返し発していたこの言葉が、このセッションのキーワードとして強く、強く、心に響きました。
15歳の男女に試験を受けさせると自信をもっていない女子は、数学でスコアが低くなる傾向にあるが、自信を持って取り組んだ場合、男女差はでなくなるというデータがある。例えば自分の部下でも信じられないミスをしても男性はケロッとしているが女性は引きずる傾向が強い。私たち女性自身が本質的に持っている特性を理解し意識して動くことの重要性を教えられた気がします。
会場は英語でのセッションであったこともあるのか比較的コンパクトな人数で、又多国籍でありました。
「仕事で大きなミスをしてしまった。非常に辛い立場にあるがどうしていけばよいのか分からない。。」という会場からの質問に対しては、登壇された方々からご自身の失敗事例とともに強いメッセージがありました。
「ミス程自分を成長させるものはない」
「ミスをlearning Opportunityと捉えていく事が大切」
「Try and errorが重要」
「ミスしないように動くと進みも遅れもしない」
登壇者の皆さんのこれまでの莫大なTry and errorの累積から来ているであろうメッセージは本当にハートフルでミスを恐れず、批判を気にせず、自信を持って明日もTryしようときっと参加者みんながシェアしたと思います。
注)出演者の肩書きは開催当時のものです。
過去の国際女性ビジネス会議のレポート